Trusted by 100+ businesses
SEO. PPC. Web Design. Social Media.
At Crue Digital, we focus on results. Whether it's through SEO, PPC, web design, social media, or anything else, we always strive to get the best results for our clients. We believe that the best way to achieve success is to always be looking for new and innovative ways to market our clients' businesses. For us, it's not about being the biggest or the best; it's about being the most effective. And we're constantly trying to improve our effectiveness so that we can help our clients achieve even better results.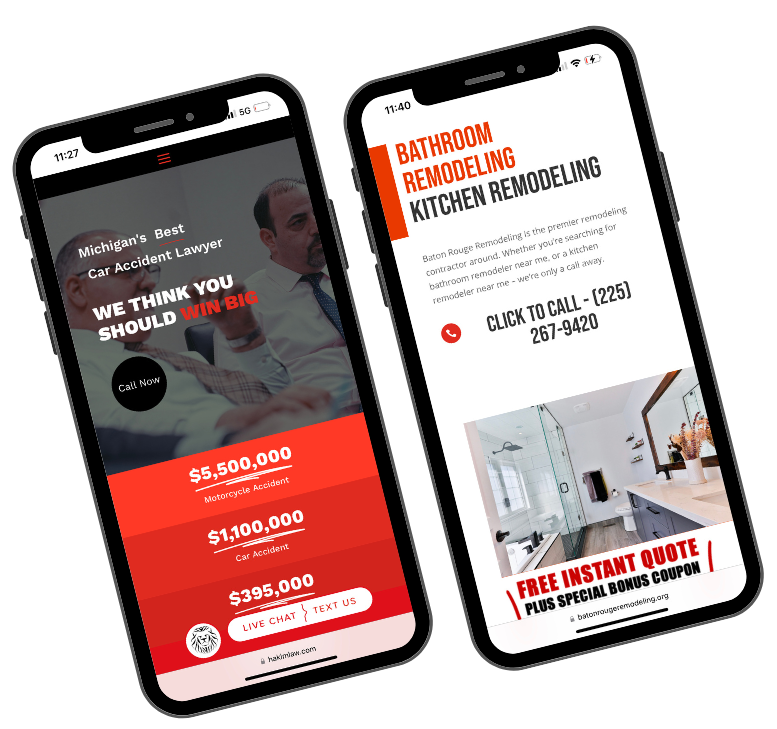 Last year, we helped businesses generate more than $15,000,000 in revenue.
As the leading SEO company will analyze your website and make recommendations on how to improve your visibility and ranking. We also offer other services, such as pay-per-click (PPC) management, social media marketing, and content marketing. If you are interested in improving your website's visibility and ranking, let's set up a call today!

SEO – We'll help you to rank higher in Google for the keywords that matter, so you get more website visitors that are ready to buy from you.
PPC – We'll set up and manage a pay-per-click advertising campaign for you on Google, so you can get instant traffic to your website that converts into customers.


Crue Digital offers custom website design services that are perfect for businesses of all sizes. Whether you're a small business owner looking to get started online, or a large corporation in need of a revamp, our team of professional designers can create a website that meets your needs and exceed your expectations.


Social Media – We'll manage your social media accounts and create engaging content that grows your following, drives traffic back to your website, and gets people talking about your brand.


We'll work with you to understand your business goals and objectives, and then develop a plan that will help you achieve them. We'll also provide ongoing support and guidance so you can keep your digital marketing efforts on track.

There are a lot of marketing agencies out there. But how can you tell which one is reliable? Well, here at Crue Digital, we like to think that we're the most reliable around. We always go above and beyond to deliver results for our clients. Plus, our team is made up of some of the most creative minds in the business. So if you're looking for an agency that you can count on, look no further than Crue Digital. We'll make sure that your marketing campaigns are successful, and we'll have a lot of fun doing it.
At Crue Digital, we believe in always keeping our clients happy. That's why we have a team of highly trained marketing professionals who are always on the lookout for new and innovative ways to market your business. We also believe in being consistent. Whether it's maintaining our high standard of quality or meeting deadlines, you can always count on us to deliver.  We'll make sure that your marketing goals become a reality.
At Crue Digital, we believe that consistent results are the key to a successful marketing campaign. That's why we always deliver on our promises, no matter how big or small. We know that the only way to build trust with our clients is to deliver on our commitments. And we take that responsibility seriously. So if you're looking for a marketing agency that can be counted on to produce results, you've come to the right place. We'll make sure that your next campaign is a success. Guaranteed.
We've been around for years, and in that time we've worked with some of the biggest companies and some incredible small businesses. We know what it takes to create a successful marketing campaign, and we're confident that we can help you achieve your goals. If you're looking for an experienced marketing partner, you've come to the right place. Contact us today to learn more about what we can do for you.
We stay up-to-date on all the latest trends and technologies so that we can help our clients stay one step ahead of their competition. We're not your typical stuffy marketing agency, we like to have a little fun while we're working hard to help our clients grow their businesses. So if you're looking for a team of digital marketing experts who will take your business to the next level, look no further than Crue Digital.
We're on a mission – to help businesses grow to their maximum potential. We'll stop at nothing to help our clients achieve their goals, whether it's increasing sales, generating leads or growing their customer base. We offer a wide range of services to help businesses reach their target audiences.  So if you're looking for a marketing agency that will go the extra mile to help you grow your business, look no further than Crue Digital.
Payton and the staff at Crue Digital always go above and beyond to make sure your website is running smooth and leads are generating. Running a Roofing Company can be hard to find good leads. Crue Digital does an awesome job!
Merle Bontrager
Tri-County Commercial Roofing
We could not be any happier with this awesome company! Not only are they highly creative and innovative but they also hit every deadline and are extremely communicative. I can't say enough good things about Crue. We had no idea how impacting the SEO work and their design would be for us, I would recommend them to anyone!
We had a tremendous experience working with Payton and the Crue Digital staff as they developed a new website for us. From the personalized service to the quality of the finished product, Crue Digital exceeded our expectations in every way.
Kyle Turner
Solid Rock Church Ann Arbor
The worst thing that can happen is that you hire a team that just starts implementing items. We want to find out what are your needs? What keeps you up at night? If in 5 years everything went perfectly, what would that look like? From there we help come up with a real plan to help you achieve your goals and take away stress and headaches.

Once we learn what you, we get to work on crafting custom solutions that can help you. From website design to SEO and social media marketing to lead generation, we'll launch different systems to help bring your more brand awareness, but most importantly to help bring you more revenue so you can continue to make a difference.

Once your systems and products have been launched, we start optimizing them – the biggest goal is to get the highest return for your marketing budget. We constantly test and improve your systems so that we can lower your cost per conversion. Most importantly, everything that we do is tracked and delivered to you in a transparent report.